Water Flooding PDF by G. Paul Willhite Free Download
Water Flooding is one of the important processes for recovery of Fluids from the wellbore. It is an important method of improving recovery, but successful waterflood performance requires a Good design. For Waterflooding, You must know the information of the basic principles of immiscible displacements, like the Microscopic efficiency of immiscible displacement and Macroscopic displacement efficiency of the linear waterflood.
Which is explained in good detail in this book? The author has presented a systematic procedure for designing a waterflood. Water Flooding by G. Paul Willhite explains emphasis is on fundamental concepts and their application in solving various water flooding problems. And Design procedures that can be prepared as small computer programs and selected computer subprograms for more complex designs are presented in it. All the important features are given below this article and table of contents is also given.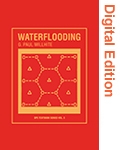 You May Also Like: Enhanced Oil Recovery PDF
Water Flooding PDF Features.

All the important displacement efficiency are discussed in this book.
Water Flooding design is presented in it.
The book is written in easy English, You will not face any difficulty in understanding.
It is a Recommended book in the course outline of Enhanced Oil Recovery.
Every topic is explained with diagrams, examples, and tables.
Table of Contents
Chapter No1: Microscopic efficiency of immiscible displacement.
Chapter No2: Macroscopic displacement efficiency of linear waterflood.
Chapter No3: Immiscible displacement in two dimensions: areal.
Chapter No4: Vertical displacement in linear and areal models.
Chapter No5: Waterflood design.
Chapter No6: The role of reservoir geology in the design and operation of water floods.
Water Flooding PDF by G. Paul Willhite Free Download