Reservoir Formation Damage PDF Free Download
You will find a comprehensive review of the different types of formation damage problems coming from petroleum reservoirs. The causes and processes responsible for these problems are represented in detail. All the necessary effort for understanding and controlling the formation damage problems in the field is explained in this book. A brief executive summary of the topics related to formation damage is covered in the book. The responsibilities played by various Engineers, such as petroleum and chemical engineers, and others are described in this book.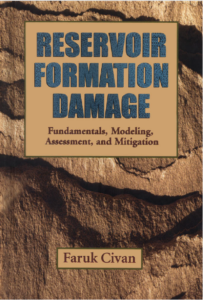 Reservoir Formation Damage PDF Features
This book provides an understanding of the fundamentals of formation damage.
The basic concept of formation damage is explained
It also includes Modeling of different rocks and fluids
It is written in easy English, You can Understand it easily.
Available in Both hard and soft format.
Also Click: Practical Formation Evaluation PDF Free Download
Table of Contents
Chapter No1: Overview of Formation Damage
Chapter No2: Mineralogy and Mineral Sensitivity of Petroleum-Bearing Formations
Chapter No3: Petrography and Texture of Petroleum-Bearing Formations
Chapter No4: Petrophysics-Flow Functions and Parameters
Chapter No5: Permeability Relationships
Chapter No6: Instrumental and Laboratory Techniques for Characterization of Reservoir Rock
Chapter No7: Multi-Phase and Multi-Species Transport in Porous Media
Chapter No8: Participate Processes in Porous Media
Chapter No9: Crystal Growth and Scale Formation in Porous Media
Chapter No10: Single-Phase Formation Damage by Fines Migration and Clay Swelling
Chapter No11: Two-Phase Formation Damage by Fines Migration
Chapter No12: Cake Filtration: Mechanism, Parameters, and Modeling
Chapter No13: Inorganic Scaling and Geochemical Formation Damage
Chapter No14: Formation Damage by Organic Deposition
Chapter No15: Laboratory Evaluation of Formation Damage
Chapter No16: Simulator Development
Chapter No17: Model Assisted Analysis and Interpretation of Laboratory and Field Tests
Chapter No18: Drilling Mud Filtrate and Solids Invasion and Mudcake Formation
Chapter No19: Interjectivity of the Water-flooding Wells
Chapter No20: Reservoir Sand Migration and Gravel-Pack Damage: Stress-Induced Formation Damage, Sanding Tendency, Prediction, and Control
Chapter No21: Formation Damage by Scale Deposition
Chapter No22: Field Diagnosis and Measurement of Formation Damage
Chapter No23: Formation Damage Control and Remediation
Reservoir Formation Damage PDF Free Download