The most important topic to reservoir engineers is reservoir simulation. To Study reservoir simulation, you need a book of reservoir simulation which contains all information related to reservoir simulation. That is Principles of Applied Reservoir Simulation by John R. Fanchi. Which is one of recommended book. Reservoir simulations are literally pictures of what a reservoir of oil or gas looks, or should look, like under the surface of the earth. In this book, the Author has presented a comprehensive analysis of reservoir simulation. Reservoir simulation is a picture of reservoir performance. It is very important to the engineer to generate these pictures, and, essentially, the more accurate the picture, the easier the engineer can get the product out of the ground, and, thus, the more profitable the well will be.You can download this book from our website free. Click on download option and get it free. Following are main features of Principles of Applied Reservoir Simulation by John R. Fanchi.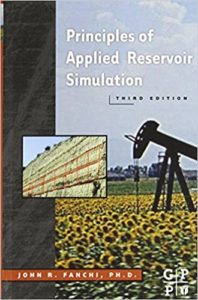 Principles of Applied Reservoir Simulation PDF Features.
Completely revised and updated information is used throughout the is new edition of Principles of Applied Reservoir Simulation.
This edition has been updated to included new sections on environmentally important issues such as CO2 sequestration, coalbed methane, Co2 Flood.
The book is also available in the pdf format so that you can read it on your laptops and tablets as well.
All the important graphs, pictures, and other diagrams are available with every topic where it is necessary.
You can easily understand the text written since the English used in the book is quite easy.
Table of Contents
Chapter No1: Introduction to Reservoir Management.
Chapter No2: Basic Reservoir Analysis.
Chapter No3: Multiphase Flow Concepts.
Chapter No4: Fluid Displacement.
Chapter No5: Frontal Stability.
Chapter No6: Pattern Floods.
Chapter No7: Recovery of Subsurface Resources.
Chapter No8: Economics and the Environment. 
Chapter No9: Multiphase Fluid Flow Equations.
Chapter No10: Fundamentals of Reservoir Simulation.
Chapter No11: Fundamentals of Reservoir Simulation.
Chapter No12: Conceptual Reservoir Scales.
Chapter No13: Flow Units.
Chapter No14: Rock Properties.
Chapter No15: Distributing Rock Properties.
Chapter No16: Fluid Properties.
Chapter No17: Model Initialization.
Chapter No18: History Matching.
Chapter No19: Predictions.
Chapter No20: Introduction to IFLO.
Chapter No21: Initialization Data.
Chapter No22: Recurrent Data.
Principles of Applied Reservoir Simulation PDF Free Download