Control Valve Handbook Third Edition PDF Free Download
This version of the book contains the latest and updated information that includes the performance of valves and the latest technologies. The Control Valve Handbook is the result of 30 years collection of information related to controlling different valves. The Control Valve Handbook is both a textbook and a reference on the fixing in the control loop.
It also includes the control valve and its accessories. This book includes extensive and tested knowledge from leading experts in the process of the control field. Control Valve Handbook covers the selection and use of varies control valves. You will find a comprehensive guide to selecting the best control valves. Following are the main features of this book.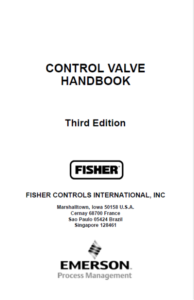 Control Valve Handbook Third Edition PDF Features
The book includes information on control valve standards, digital valve controllers, analog positioners, boosters, and other control valve accessories.
You will find useful tables of engineering reference data.
It also includes piping reference data.
Control Valve Handbook is Available in both hard and soft format.
Installation and maintenance proceduresof different valves are presented.
Table Of Contents
Chapter No1: Introduction to Control Valves
Chapter No2: Control Valve Performance
Chapter No3: Valve and Actuator Types
Chapter No4: Control Valve Accessories
Chapter No5: Control Valve Selection
Chapter No6: Special Control Valves
Chapter No7: Steam Conditioning Valves
Chapter No8: Installation and Maintenance
Chapter No9: Standards and Approvals
Chapter No10: Engineering Data
Chapter No11: Pipe Data
Chapter No12: Conversions and Equivalents
 Control Valve Handbook Third Edition PDF Free Download