Petroleum Reservoir Engineering Physical Properties PDF Free Download
Petroleum Reservoir Engineering Physical Properties, Presents concepts and applications of rock and fluid properties that are fundamental to engineering analyses of petroleum reservoirs. All the fluids that are present in a reservoir have different properties and we need to treat them accordingly. To study the properties of a reservoir, the properties of fluids, you will need a book that is directed right towards the point.
One of the most studied and the best book for the purpose is The Petroleum Reservoir Engineering Physical Properties. In addition, the organization and evaluation of laboratory and field data for reservoir analyses are presented together with applications of such ordered data to the determination of the volume of hydrocarbons in place.
The book is arranged so that it can be used as a text or as a reference work. An introductory discussion of hydrocarbon accumulations, oil-field development, and production methods. Chapters 2 and 3 present rock properties in a complete and cohesive independent unit. Chapters 4 to 6 present a study of fluid properties also as a complete, cohesive independent unit.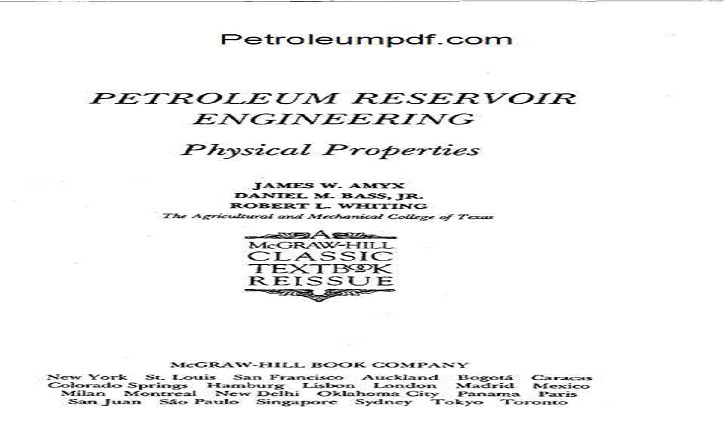 Petroleum Reservoir Engineering Physical Properties PDF features.
Here is a list of all the features which you are going to get from this book.
This is one of the most demanded books in the field of reservoirs to study the properties of fluids.
The work in the book makes it quite easier to understand.
All the important Mathematical notations, Modifying Signs, English Latter Symbols, and Abbreviations are presented in the last of this book.
All the topics are explained with a definition, equations, and graphs.
This book is available both in hard and soft formats.
Table of Contents.
Chapter No1: Introduction.
Chapter No2: Fundamental Properties of Fluid Permeated Rock.
Chapter No. 3: Properties of Porous Media Containing Multiple Fluid Saturation.
Chapter No4: Fundamentals of the Behavior of Hydrocarbon Fluids.
Chapter No5: Determination and Application of Reservoir Fluid Properties.
Chapter No6: Properties of Water.
Chapter No7: Data Evaluation for Reservoir Calculation.
Chapter No8: The Material Balance.
Petroleum Reservoir Engineering Physical Properties PDF Free Download