Petroleum Production Engineering A Computer-Assisted Approach PDF Free Download
Petroleum Production Engineering A Computer-Assisted Approach is One of the important books in production engineering because The advances in the digital computing technology in the last decade have revolutionized the petroleum industry. Using the modern computer technologies, today's petroleum production engineers work much more efficiently than ever before in their daily activities, including analyzing and optimizing the performance of their existing production systems and designing new production systems.These all are presented in this book. As for production, the book which is most trusted is Petroleum Production Engineering A Computer-Assisted Approach. You can download it free at the end of this article. Before downloading.  During several years of teaching the production engineering courses in academia and in the industry, the authors realized that there is a need for a textbook that reflects the current practice of what the modern production engineers do. Currently available books fail to provide adequate information about how the engineering principles are applied to solving petroleum production engineering problems with modern computer technologies. Review the features of this book.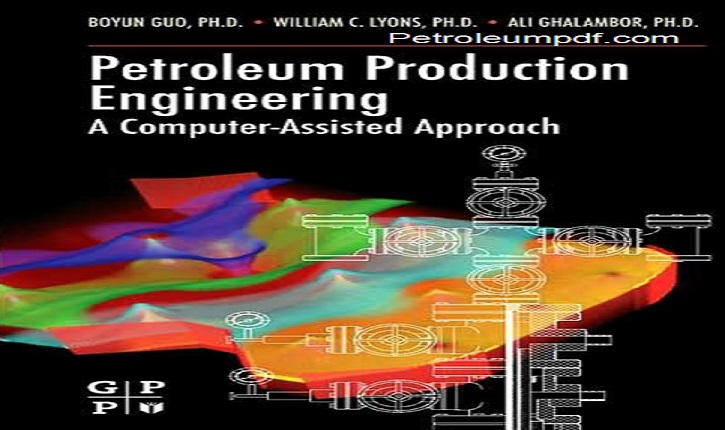 Petroleum Production Engineering A Computer-Assisted Approach Features.
In this book Applications of the principles are illustrated by solving example problems.
The book is available in both hard copy and pdf formats. It will be easy for you to study it in your laptop and Personal computer.
Every topic is explained with diagrams and tables.
The book provides a reference list of books and papers at the end of each chapter.
All the important Symbols and Abbreviations, English / Metric Units Standards for Metric Conversion Factors are given in the last of this book.
Also Click: Water Flooding PDF by G. Paul Willhite Free Download
Table of Contents.
Chapter 1: Petroleum Production System.
Chapter 2: Properties of Oil and Natural Gas.
Chapter 3: Reservoir Deliverability.
Chapter 4: Wellbore Performance.
Chapter 5: Choke Performance.
Chapter 6: Well Deliverability.
Chapter 7: Forecast of Well Production.
Chapter 8: Production Decline Analysis.
Chapter 9: Well Tubing.
Chapter 10: Separation Systems.
Chapter 11: Transportation Systems.
Chapter 12: Sucker Rod Pumping.
Chapter 13: Gas Lift.
Chapter 14: Other Artificial Lift Methods.
Chapter 15: Well Problem Identification.
Chapter 16: Matrix Acidizing.
Chapter 17: Hydraulic Fracturing.
Chapter 18: Production Optimization.
Appendix A: Unit Conversion Factors.
Appendix B: The Minimum Performance Properties of API Tubing.
Petroleum Production Engineering A Computer-Assisted Approach PDF Free Download