Petroleum Engineering: Principles and Practice Pdf Free Download
When you have to get yourself enrolled in a petroleum engineering course, it is important that you make a strong basis for it. Without understanding the basic principles and practices of this Petroleum engineering department, it is hard to survive in the industry. You are not expected to learn everything in your college about it since, petroleum, things change every day, however, a student who read and understands the basics things of all the disciplines in petroleum such as reservoir, drilling, production, and exploration, they are likely to succeed when they get there.
For this purpose, a book that is mostly recommended by experts is Petroleum Engineering: Principles and Practice Pdf by J.S. Archer and C.G. Wall. To study all the basics of all the departments in petroleum engineering, this book is most recommended. You will be able to get the free Pdf at the end of this article.
Related: Introduction to Petroleum Engineering.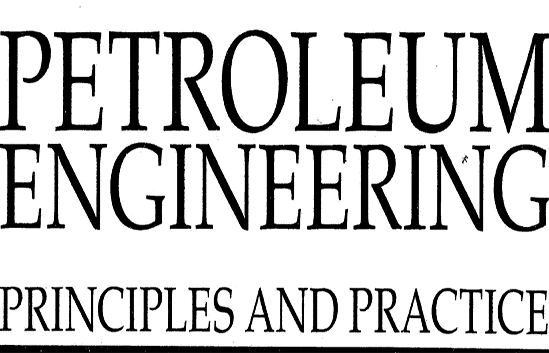 Petroleum Engineering: Principles and Practice Pdf Features.
Here is a list of all the features which you are going to get from this book.
There is not better option than Petroleum Engineering Principles and Practice by J.S. Archer and C.G. Wall to study all the basics of this engineering.
The book is written thoroughly and in easy wording for your better understanding.
All the basics of discipline such as exploration, drilling, reservoir, production, properties of rocks, and other things are mentioned.
There is not a single concept related to petroleum engineering that is missing in this handout.
It is available both in pdf and hard formats.
Table of Contents.
Chapter 1: Introduction.
Chapter 2: Reservoirs.
Chapter 3: Oil Well Drilling.
Chapter 4: Properties of Reservoir Fluids.
Chapter 5: Characteristics of Reservoir Rocks.
Chapter 6: Fluid Saturation: Influence of Wettability and Capillary Pressure.
Chapter 7: Relative Permeability and Multi-Phase Flow in Porous Media.
Chapter 8: Representation of Volumetric Estimates and Recoverable Reserves.
Chapter 9: Radial Flow Analysis of Well Performance.
Chapter 10: Reservoir Performance Analysis.
Chapter 11: Secondary and Pressure Maintenance.
Chapter 12: Improved Hydrocarbon Recovery.
Chapter 13: Factors Influencing Production Operations.
Chapter 14: Concepts in Reservoir Modeling and Application to Development Planning.
Appendix 1: SPE Nomenclature and Units.
Appendix 2: Solutions to Examples in Text.
Index.
Download Petroleum Engineering Principles and Practice Pdf Free.