Applied Reservoir Engineering Volume 2 PDF Free Download
The first few chapters stress fundamentals and provide the basis for a thorough understanding of the different drive mechanisms in reservoir engineering studies. Authors have discussed the fundamental concept of pressure transient analysis. Recovery mechanisms are introduced in great depth detail. Water coning and fingering are discussed in details in this book.This volume of books differentiates between the practical application of physical principles which is faced in the primary recovery of oil and gas.Examples and procedures for the solution of common problems which play an important role in the reservoir are covered. Click on the download option and get it free from our website. Volumetric calculations, material balance, and immiscible displacement processes are then presented. Excellent concepts of computer reservoir simulation are discussed, and many other basic concepts. You can download this book for absolutely free at the end of this article. Individual chapters are devoted to the analysis of common drive mechanisms. Following are the main features of this book.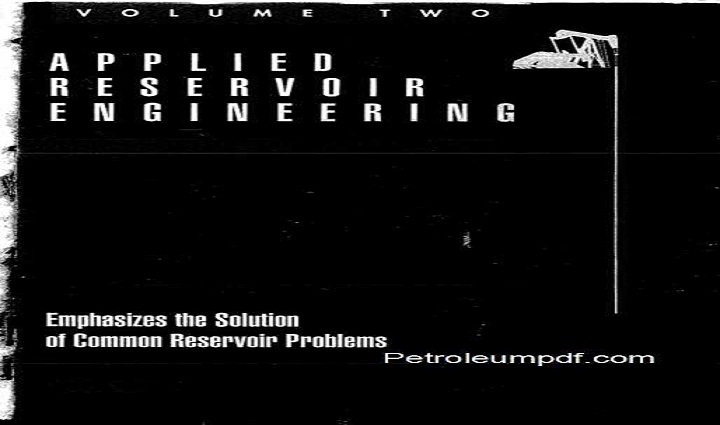 Applied Reservoir Engineering Volume 2 PDF features

Applied Reservoir Engineering Volume 2 is the book, which contains important information related to Different Drive mechanisms.
It is written in easy English to read and understandable.
A fundamental background of Reservoir is Presented in this book by authors.
The book is available in both hard copy and pdf formats. It will be easy for you to study it in your laptop and Personal computer.
One of the recommended books in reservoir engineering course outline.
Table of Contents.
Chapter No12: Analysis of Water Drive Reservoirs.
Chapter No13: Water Conning and Fingering.
Chapter No14: Gas Cap Drive.
Chapter No15: Combination Drive Reservoirs.
Chapter No16: Pressure Transient Analysis.
Chapter No17: Introduction to Computer Reservoir Simulation.
Applied Reservoir Engineering Volume 2 PDF Free Download