The Key Processes in oil and Gas industry are Exploration, Drilling, and Production. The book contains such a crucial text of these Processes. If you want to be a good Petroleum Engineer must aware of these operations. Read out this book it will assist you a lot. It will guide you in mentioned activities of Oil Field. A PDF is available to download it and study a nontechnical guide to these Operations. The Author has used lots of pictures and graphs to help readers in understanding topics and to provide great concept.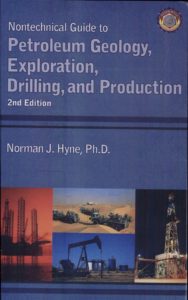 You May Like: Well Testing by John Lee Pdf Free Download
Nontechnical Guide to Petroleum Geology, Exploration, Drilling and Production PDF Features
It contains enough technical detail to know about Petroleum Geology, Exploration, Drilling and Production
Fundamental aspects of petroleum exploration and production are explained.
Each topic is explained with figure and diagram.
It is available both in soft and hard formats you can read it on your PC or Laptop.
A useful Glossary and Index are given in last of this book.
Note: The book was removed upon the request of a copyright owner. Please, support the publishers by buying a hard copy for the published material.
Table of Contents
Chapter No1: The Nature of Gas and Oil
Chapter No2: The Earth's Crust-Where we Find it
Chapter No3: Identification of Common Rocks and Minerals
Chapter No4: Geological Time
Chapter No5: Deformation of Sedimentary Rocks
Chapter No6: Ocean Environment and Plate Tectonics
Chapter No7: Sedimentary Rock Distribution
Chapter No8: Mapping
Chapter No9: Source Rocks, Generation, Migration, and Accumulation of Petroleum
Chapter No10: Reservoir Rocks
Chapter No11: Petroleum Traps
Chapter No12: Petroleum Exploration-Geological and Geochemical
Chapter No13: Petroleum Exploration-Geophysical
Chapter No14: Drilling Preliminaries
Chapter No15: Drilling a Well-The Mechanics
Chapter No16: Drilling Problems
Chapter No17: Drilling Techniques
Chapter No18: Testing a Well
Chapter No19: Completing a Well
Chapter No20: Surface Treatment and Storage
Chapter No21: Offshore Drilling and Completion
Chapter No22: Workover
Chapter No23: Reservoir Mechanics
Chapter No24: Petroleum Production
Chapter No25: Reserves
Chapter No26: Improved Oil Recovery
Chapter No27: Unconventional Oil and Gas
Nontechnical Guide to Petroleum Geology, Exploration, Drilling and Production PDF Free Download: