Hydrocarbon Phase Behavior by Tarek Ahmed PDF Free Download
Hydrocarbon Phase Behavior Introduction:
We should be thankful to Professor Tarek Ahmed who wrote few amazing books especially to help us with concepts related to the department of reservoir engineering. You must have been familiar with his other books such as Advanced Reservoir Engineering which gives a brilliant study of all the concepts of reservoir and fluids present within a hydrocarbon reservoir. All of us know that fluids present in a reservoir follow a specific behavior. Also, these fluids exist in different phases which are very important for us to study. Just like we got some really good and updated knowledge from his other books and if we need to study specifically the phase behavior, the book which you should get now is Hydrocarbon Phase Behavior by Tarek Ahmed PDF. This book contains all the general and advanced concepts related to the phase behavior of hydrocarbons. Let us discuss more about it.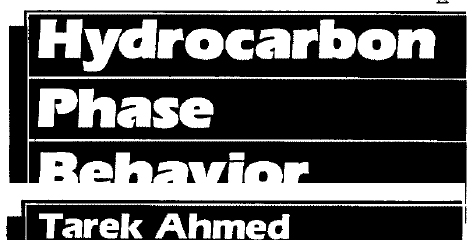 Hydrocarbon Phase Behavior by Tarek Ahmed PDF Features.
Here is a list of all those features which you can get from this book.
The book is available both in PDF and hard copies so you can get either of them for download.
This book discusses all the concepts related to phase behavior of hydrocarbons such as basic phase behavior, properties of natural gases, behavior of crude oils, equations of state, and PVT analysis.
The book is written in easy wording so that everyone can understand it.
It contains all the tables and diagrams related to the topics.
Phase Behavior of hydrocarbon fluids is explained in good detail.
Table of Contents.
Chapter 1: Basic Phase Behavior.
Chapter 2: Pure Component Physical Properties and Characterizing Undefined Petroleum Fractures.
Chapter 3: Properties of Natural Gases.
Chapter 4: Phase Behavior of Crude Oils.
Chapter 5: Vapor-Liquid Phase Equilibrium.
Chapter 6: Equations of State.
Chapter 7: Splitting and Lumping Schemes of Petroleum Fractions.
Chapter 8: Simulation of Laboratory PVT Data by Equations of State.
Appendix: Equilibrium Ratio Curves.
Index.